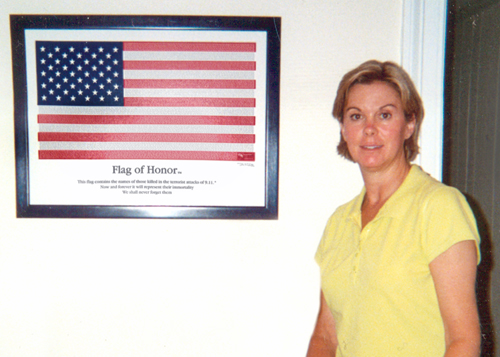 I am writing with the sad news that our longtime friend and former co-worker, Darlene Johnson, has passed away after a courageous battle with ovarian cancer.
First and foremost, Darlene was a personal friend who quietly supported our family through a challenging time after 9/11. We will always be grateful! Darlene was also instrumental in shaping Voices of September 11th - first as a volunteer and board member, and later in a leadership role at VOICES for over 5 years until her family moved to Richmond, VA. The organization stands testimony to Darlene's dedication and compassion in helping the 9/11 families, rescue workers and survivors, just as she supported our family.
Our thoughts and prayers are with her husband Charlie, and children, Charlie Jr., Andrew and Emily, her mother and father, Daniel and Adele McConaghy, her sister Rita DiSalvo and brother, Daniel McConaghy - and all of her many friends in New Canaan, CT., East Falmouth, Mass. and Richmond, VA.
A funeral service was held at the Cathedral of the Sacred Heart in Richmond, VA. on Wednesday, November 13. Darlene will be laid to rest in Falmouth, Mass. on Cape Cod, her favorite place in the world. A burial service will be held Sunday, November 17th at 2:00, at St. Anthony's Church, 167 E. Falmouth Highway, East Falmouth, Mass., with a reception to follow.
In lieu of flowers, contributions may be made to the University of Virginia in memory of Darlene M. Johnson for the Darlene M. Johnson Scholarship Fund, PO Box 400807, Charlottesville, VA 22904.
We will always be grateful to Darlene for her friendship and the many ways she touched our lives....and remember her beautiful smile and contagious laughter. Please keep Darlene and her family in your thoughts and prayers.