"We have an obligation not only to remember the past, but to imagine and create a better future. Our world is a better place because VOICES, your voices, fill us with the possibility of what the next minute could be."


Hillary Clinton, Voices of September 11th Gala, October 16, 2013
Dear Families and Friends,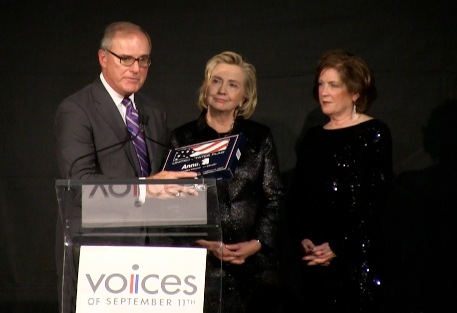 For some people, a day without a cloud in a sky is a blessing. For others, it is a reminder of the worst day in their lives. At Voices of September 11th we understand both feelings. For more than 12 years, we have worked with 9/11 families, rescue workers and survivors. We remain committed to helping families commemorate their loved ones through the 9/11 Living Memorial Project, which will be a core component of the 9/11 Memorial Museum. We also help responders and survivors access health care and find healing through telling their stories. Thanks to the support of generous people like you, VOICES is able to help these people move forward with their lives.
In January 2014, VOICES is embarking on a new initiative, to leverage our lessons learned and core competencies to help victims' families and survivors heal after other tragedies. This year, VOICES will launch the Center of Excellence for Community Resilience to share best practices and guide communities in planning for and responding to acts of mass violence.
All of this simply would not be possible without your financial support. We rely on your help to assist those in need of medical and mental health services. We rely on your help to create the 9/11 Living Memorial as a meaningful tribute to the almost 3,000 lives lost on 9/11. As we expand our mission, we rely on your help to bring the message of healing to communities impacted by other tragedies. VOICES is honored to work with these families and with your support we will continue to make a difference in the lives of the people we serve!
Sincerely,



Mary Fetchet
Founding Director
P.S. We understand how important it is that those who have been touched by tragedy begin the process of recovery, begin to see the hope and healing that most of us see in the cloudless sky.
Donate today
so that VOICES can support victims' families and survivors!