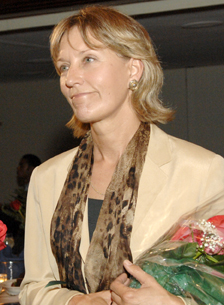 It doesn't seem like it has been five years since the crash of Flight 3407 took the life of our friend and VOICES co-founder, Beverly Eckert. Beverly was a dear friend and a passionate advocate for the creation of the 9/11 Commission. Everyone who knew her was impressed by her energy and commitment and she is sorely missed.
Beverly was traveling for a gathering to mark what would have been her husband, Sean's, 58th birthday on February 15, 2009. A ceremony had also been scheduled at Canisius High School, in which she was to award a scholarship in Sean's name.
In the aftermath of the crash, Beverly's sisters, Karen Eckert and Susan Bourque, made more than 60 trips from Buffalo to Washington, D.C. to lobby for stronger oversight of the airline industry, particularly in the hiring, training and scheduling of pilots at regional airlines. This resulted in the passage of important legislation, the Airline Safety and Federal Aviation Administration Extension Act of 2010. (For more information about this legislation, visit the website,
www.3407Memorial.com
). Senator Kirsten Gillibrand praised the families of the victims who lobbied for its creation: "The families have been an inspiring and powerful force in Congress that led to this ruling to finally hold pilots to higher standards with better training and more experience to keep our families safe."
On this Fifth Anniversary, we remember Beverly and all those lost on Flight 3407 and we thank all the family members who chose to remember their loved ones by working to pass legislation that will make all who fly safer.