March 28, 2008
Dear Families and Friends,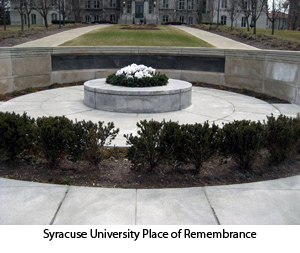 This week I visited Syracuse University as part of the schools celebration of our 1st amendment rights that allow ordinary citizens to petition the government. I spoke to students about my firsthand experience working with other 9/11 families as part of a grassroots effort to campaign for the creation of the 9/11 Commission, and legislation based on the Commission's recommendations.
While at the university I had an opportunity to visit a memorial created in memory of 35 Syracuse students who were killed in a terrorist event. These students tragically perished nearly 20 years ago, when Pan Am flight 103 exploded over Lockerbie, Scotland. The students had been studying abroad and were returning to the United States from London on December 21, 1988. As a result of their loss, the Lockerbie families led the way in fighting for reforms to make the airline industry safer. Syracuse University has made a long term commitment to support these families, as well as to remember the lives of those lost. Their dedication is reinforced through the creation of this meaningful memorial.
During my visit to Syracuse I also had an opportunity to meet 9/11 families living in the area. We will be hosting a 9/11 Living Memorial workshop in Syracuse in the coming months, in addition to several other locations around the country. If you would like to be involved in planning a workshop in your area, please contact our office.
Warm Regards,
Mary and the Voices Staff
VOICES Programs and events
Voices 9/11 Living Memorial Workshops
It was a busy March for the Voices team as they traveled to locations in New York, New Jersey and Massachusetts to hold Living Memorial workshops, meeting with family members to begin the process of creating tribute pages to their loved ones, or to document their stories as survivors or rescue workers. We'd like to thank all who participated in the workshops and shared their precious memories and stories with us.

The 9/11 Living Memorial is dedicated to commemorating the lives and stories of September 11, 2001 and the February 26, 1993 World Trade Center bombing.
Voices 9/11 Living Memorial feature
Tara Yvette Hobbs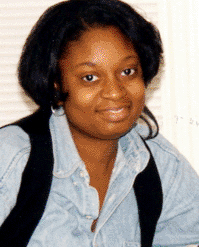 Tara Yvette Hobbs, from Central Islip, N.Y., was 31 years old and working as a Claims Representative/ Insurance Broker at Aon Corp., on the 98th floor of the WTC on September 11, 2001.

Her favorite poem was "Success" by Ralph Waldo Emerson, which begins:

"That person is a success who has
Lived well, laughed often and
Loved much; who has gained the
Respect of intelligent people and
The love of children; who has
Filled his niche and accomplished
His task; who leaves the world
Better than he found it…"

Tara was educated at Adelphi University, Pace University, Suffolk County Community College, and Long Island University, where she graduated with a bachelor of science degree in English literature. A woman of faith, she attended the New York Christian Life Center.
Tara was blessed with many special people in her life, including her loving parents, Dixie Marie and Dennis Lee Hobbs; three sisters, Sherian Hobbs Lightfoot, Tammy Hobbs Ginsberg, and Sonya Hobbs Cuffee, and one brother, Reginald Hobbs. Tara's memorial page includes family photos, and moving letters and pictures from her niece, Kofi Lightfoot, and her nephew, Reginald Dennis Hobbs.
EVENTS AND INFORMATION FOR THE 9/11 COMMUNITY
Reps. Nadler and Lofgren to Investigate Compensation for 9/11 Illnesses
Congressman Jerrold Nadler (NY-08), Chair of the Judiciary Subcommittee on the Constitution, Civil Rights and Civil Liberties and Congresswoman Zoe Lofgren (CA-16), Chair of the Judiciary Subcommittee on Immigration, Citizenship, Refugees, Border Security, and International Law will hold a joint oversight hearing titled, "Paying With Their Lives: The Status of Compensation for 9/11 Health Effects," on Tuesday, April 1, 2008 at 10:00 A.M in Washington, DC at the Rayburn House Office Building, Room 2141. Kenneth Feinberg, Former Special Master, Victim Compensation Fund; James Melius, MD, PhD, Administrator, New York State Laborers' Health and Safety Trust Fund; Mike Valentin, former NYPD detective with severe 9/11-related health problems and Michael Cardozo, Corporation Counsel, City of New York will testify. Visit our site for more information.
Columbia University and NYSPI Provide Support for 9/11 Families
Columbia University and the New York State Psychiatric Institute (NYSPI) are providing support for those individuals that lost a family member or close friend in the 9/11 attacks. If you or someone you know continues to struggle with the grieving process, please contact the Anxiety Disorders Clinic at Columbia/NYSPI at 212/543-5367 to hear more about this treatment opportunity, available at no cost for eligible participants.
Safety Spectrum Fails to Reach Reserve Price
The Federal Communication's Commission's auction of space on the wireless spectrum this month generated almost twice the $10 billion the government and industry sources predicted. The space on the 700 megahertz band (valuable because these signals can go long distances and through thick walls) will be vacated as television stations transition from analog to digital TV in February 2009. The move is crucial in freeing up space on the analog spectrum for emergency responder communications, and some of the funds generated through the auction will be used to ease the transition.


A major concern for the FCC is the fact that the "d block" of the spectrum, the block earmarked for the public safety communications network, failed to meet its reserve price at the auction. There are reports that FCC Chairman Kevin Martin has circulated a proposal that calls for a re-auction of the "d block" under reworked guidelines, but that the Commissioner said he still firmly supported using this block of the spectrum as a pubic safety network.


Various publications report that bidders for the "d block", which failed to reach its reserve price of $1.3 billion, were worried by the difficulties and high costs associated with managing an emergency network. A coalition of nine consumer groups has written to the FCC to ask the agency to look in to complaints about the d-block auction and to investigate whether plans for a shared public private network were viable. Questions were raised about whether rules for negotiations with emergency responders were too onerous. But FCC Chairman Martin has said that the needs of police and firefighters should be kept to the forefront as the FCC considers next steps.


Visit the Voices website to read more about this important topic.