Dear Families and Friends,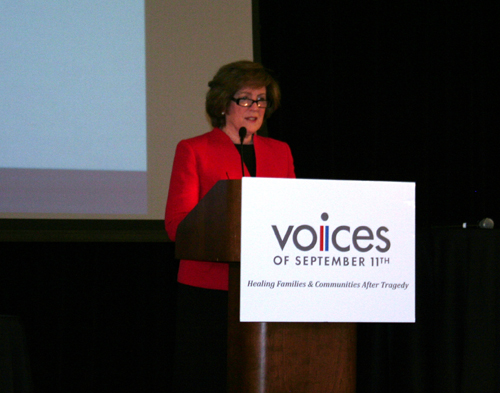 On April 3, VOICES hosted our annual Resiliency Symposium at Rutgers Livingston Campus Student Center in Piscataway, New Jersey. Over 150 were in attendance, many participating

for the

first time. We were very fortunate to have accomplished professionals

sharing their expertise

in the field of trauma. Clearly, over 13 years after 9/11 there is still a need for information and

access to

long-term support services. We are very grateful to the generosity of our co-sponsors the World Trade Center Health Program, United Way of Central Jersey and the Rutgers School of Social Work for their

continued support and

generosity in making this event possible. We have included a link to h

ighlights and photos from the Symposium below.
This past week observances were held marking the 2nd anniversary of the Boston Marathon Bombings and the 20th anniversary of the Oklahoma City Bombing. In the face of these tragedies, communities came together, and still today families and friends gather to remember and support one another. Many of you may be aware that in the aftermath of 9/11 the Oklahoma City families immediately reached out to us to provide comfort and to reassure us that despite our loss, we too would find strength to move forward. These acts of kindness and friendships are the gifts that came out of the tragedies. However, it goes without saying that acts of terrorism irrevocably change our lives and redefine our sense of security.
To that end, on March 25, 2015, the FBI 9/11 Review Commission released a comprehensive report detailing their findings evaluating the FBI's implementation of recommendations proposed by the 9/11 Commission. VOICES Board Member and Former CIA Deputy Director for Intelligence John Gannon served as Executive Director of the Review Commission, and our longstanding friend Ambassador Tim Roemer served as one of the Chairs. Ambassador Roemer was a former Congressman from Indiana and a 9/11 Commissioner that we worked closely with during our efforts to establish the 9/11 Commission and promote implementation of their sweeping intelligence reforms. I am honored to know them both and applaud their dedication as public servants to making important contributions that help keep our country safe. We have included a link to the full report below.
Over the past several years, we have been working with the World Trade Center Health Program to promote awareness about the medical and mental health services that are available to responders and survivors, as well as to those who lived, worked, went to school or volunteered in the area. Many of these individuals are battling serious health crises. New York Senator Kirsten Gillibrand led an April 14 press conference to announce an important bill reauthorizing the Zadroga Act, which provides funding for health care and financial compensation to responders and survivors.
Finally, as a reminder, VOICES staff will be participating in the 9/11 Memorial 5K Run/Walk this Sunday, April 26. We hope to see you there!
Warm Regards,
Mary Fetchet & the VOICES Staff
Sunday, April 26, 2015
Run to Remember
9/11 Memorial 5K Run/Walk
Pier 26/Tribeca to the World Trade Center
Family Day: 9:00 am-2:00 pm
Greenwich Street between Cortlandt St. & Albany St.
If you're in NYC this coming Sunday, be sure to visit the VOICES tent at the Run to Remember Family Day! Our Staff will be at the Memorial Plaza with a family-friendly creative activity designed to commemorate the lives and stories of the victims, responders, survivors and their families. To register for the run, visit 911memorial.org/5K.
Monday, June 8, 2015
Inaugural Golf Outing
Woodway Country Club, Darien CT
Limited foursomes left, so reserve your spot today! Those not playing golf are invited to attend the dinner reception and guest speaker program beginning at 5:00 PM. Register online at www.voicesofseptember11.org, or for more information, contact Frank Fetchet at (203) 966-3911, or ffetchet@voicesofsept11.org.
VOICES Annual Resiliency Symposium
On Friday, April 3, 2015, VOICES hosted its annual Resiliency Symposium, "Promoting Resiliency in Communities Impacted by Trauma: Identification and Treatment of Long-Term Needs." This year's Symposium was an insightful day that featured presentations, panel discussions and interactive educational speakers led by accomplished clinicians, authors, and researchers. We were pleased to bring together this group of professionals with expertise in the fields of psychology, research, occupational health, and medicine.
The day-long event included presentations by subject matter experts who have provided support services for children, families, responders and survivors impacted by 9/11. The Symposium also offered information to mental health professionals, emergency managers, students, and other community stakeholders working in the field of trauma. For highlights of the event, and a photo gallery, click here.
Our Leaders Remember
President Obama released this statement on the 2nd anniversary of the Boston Marathon Bombings.
President Clinton's delivered
this speech
at the Oklahoma City National Memorial on the 20th anniversary of the attack on the Murrah Federal Building in Oklahoma City.
Reauthorization of the James Zadroga 9/11 Health and Compensation Act
With the World Trade Center Health Program and the September 11th Victim Compensation Fund set to expire in October 2015 and 2016, respectively, a bipartisan group of U.S. Senate and House Lawmakers from Across the Country have introduced an important act to permanently extend these programs.
Nearly 14 years after 9/11, responders and survivors are still battling serious health crises resulting from exposure to the toxins at Ground Zero. The new James Zadroga 9/11 Health and Compensation Act would continue the WTC Health Program, and continue to provide monitoring and treatment for communities throughout the nation. It would also provide for the continuation of the Victim Compensation Fund, providing economic support for responders and survivors who were injured by exposure to the toxins at Ground Zero. Read the full press release here.
FBI 9/11 Review Commission Releases New Report
In January 2014, the U.S. Congress directed the Federal Bureau of Investigation to create a commission with the expertise and scope to conduct a comprehensive external review of the implementation of the recommendations related to the FBI that were proposed by the 9/11 Commission. The FBI 9/11 Review Commission was chaired by Bruce Hoffman, Edwin Meese and Ambassador Tim Roemer. The chairs appointed John Gannon, VOICES Board Member and former CIA Deputy Director for Intelligence, as Executive Director.
The FBI 9/11 Review Commission was tasked specifically to report on:
An assessment of the progress made, and challenges in implementing the 9/11 Commission's recommendations related to the FBI
An analysis of the FBI's response to trends of domestic terror attacks since 9/11, including the influence of domestic radicalization
An assessment of any evidence not known to the FBI that was not considered by the 9/11 Commission related to any factors that contributed in any manner to the attacks on September 11, 2001
Any additional recommendations with regard to FBI intelligence sharing and counterterrorism policy.
In March 2015, the Commission released their report, The FBI: Protecting the Homeland in the 21st Century. Read the full report here.
Voices of September 11th (VOICES) is a 501c3 nonpartisan organization that provides information and a wide range of support services to promote resiliency and address the long-term needs of all those affected by September 11th; commemorates the lives and stories of September 11, 2001; and advocates for public policy reform to promote national preparedness. VOICES is committed to helping communities prepare for, respond to and recover from traumatic events, by sharing lessons learned that will promote resiliency and healing in the lives of those impacted by other tragedies.