Dear Families and Friends,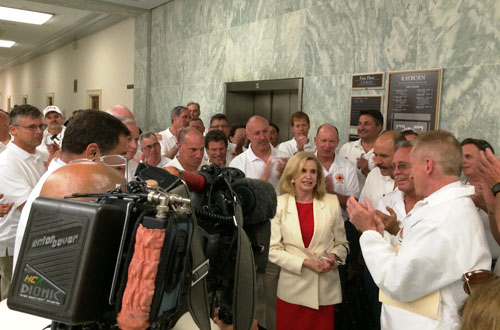 Rep. Carolyn Maloney (D-NY) meets with a group of firefighters.
Yesterday I attended the Energy and Commerce Health Subcommittee hearing in Washington, DC. Witnesses provided an update on the World Trade Center Health Program, and first-hand accounts of their treatment for medical conditions as a result of working in the rescue and recovery efforts at the World Trade Center site. The subcommittee is evaluating the effectiveness of the program and considering the reauthorization of the Zadroga Act, which expires in 2016. Firefighters, responders and Congressional supporters attended the hearing to show solidarity for passage of this important legislation.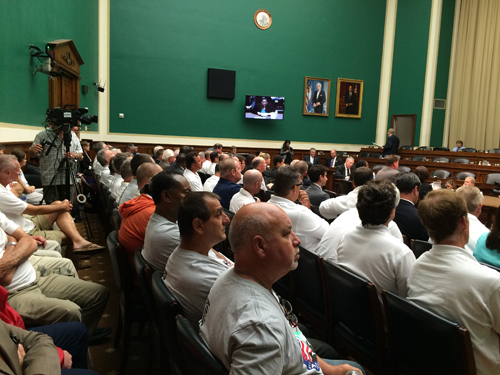 A contingent of first responders listen to the June 11 hearings.
Dr. John Howard, Director of the National Institute for Occupational Safety and Health, and Dr. Iris Udasin, a Medical Director at RWJ Medical School, discussed the complicated medical and mental health conditions they are treating and the importance of the World Trade Center Health Program in providing comprehensive care for tens of thousands of 9/11 responders and survivors. Former NYPD Police Officers David Howley and Barbara Burnette provided very moving testimony about the serious medical conditions they have developed due to their exposure to environmental toxins. As a family member, it was heartbreaking to hear their personal stories. We are all indebted to these brave individuals and the thousands who responded in the aftermath of 9/11. As many have so eloquently said, "They were there for us, and now we need to be here for them."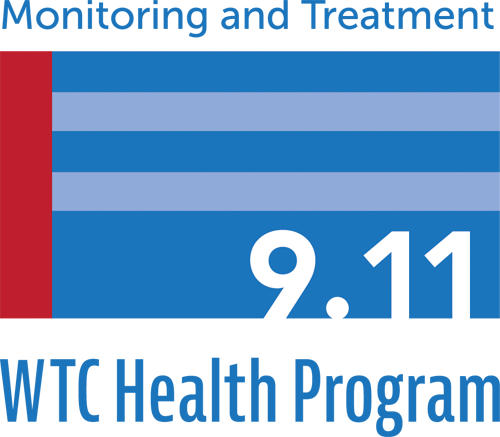 For several years, VOICES has been working with the Centers for Disease Control to promote the World Trade Center Health Program. This year we launched the "Enroll One More" national campaign to raise awareness about medical and mental health treatment that is available for responders, volunteers and survivors. Our staff is working in collaboration with the Mental Health Association of New York to ensure those who may be eligible for the program receive the care they deserve.
In closing, June is National PTSD Awareness Month. According to the National Center for PTSD, approximately 5.2 million adults suffer from this condition in a given year. PTSD remains a long-term issue for many of the victims' families, responders and survivors with whom we work.
More details about the hearing, the Enroll One More campaign and PTSD resources are included below.
As always, please feel free to contact us at 203-966-3911 if we can be of assistance.
Warm Regards,
Mary Fetchet & the VOICES Staff
Help Us ENROLL ONE MORE in the World Trade Center Health Program
You or Someone You Know May Be Eligible for Medical or Mental Health Treatment
The World Trade Center Health Program provides medical and mental health services to responders and volunteers who helped with the rescue, recovery and cleanup at the World Trade Center and related sites in New York City. It also provides services for survivors and evacuees who were in the disaster area, or who lived, worked or went to school there.
Who is eligible?
Rescue, recovery and cleanup workers (including union and trade workers)
Anyone who worked in the area
Evacuees and survivors
Residents and local businesses
Day care, school and college attendees
Mental health and medical professionals
Volunteers, service providers and others
Why should you apply?
Mental health and medical care, including treatment for some cancers, is available through practitioners experienced in 9/11-related conditions.
The WTC Health Program Centers of Excellence are located throughout the NY Metropolitan area.
Those living outside the NY Metropolitan area receive medical monitoring and treatment from experienced providers in the Nationwide Provider Network.
There is no out-of-pocket cost to you for treatment and medications.
To learn more about the program, call our help line at 855-709-0100 or visit our website.
Congressional Hearing on Reauthorization of the Zadroga Act
On Thursday, June 11, 2015, the House Energy and Commerce Committee's Health Subcommittee held a hearing on the James Zadroga 9/11 Health and Compensation Reauthorization Act. The bill seeks to extend medical care benefits indefinitely and compensation under the Victim Compensation Fund through 2041 to rescue workers and survivors who became ill due to the attacks.
The Subcommittee, chaired by Rep. Joe Pitts (R-PA), heard testimony from:



Dr. Iris Udasin presents her testimony to the Congressional Committee.

Dr. John Howard, Director of the National Institute for Occupational Safety and Health
Dr. Iris Udasin, a Medical Director of the Environmental and Occupational Health Sciences Institute at the Robert Wood Johnson Medical School
Mr. David Howley, Retired NYPD Police Officer
Ms. Barbara Burnette, Former Detective, NYPD
As of the end of 2014, there are 71,942 individuals enrolled in the World Trade Center Health Program (WTCHP), 20,833 of whom received treatment for heath conditions arising from toxic and other hazardous exposures resulting from the terrorist attacks of September 11, 2001. 4,265 cases of cancer have been certified. Members of the Program come from all 50 states and from 429 out of 435 Congressional Districts.
"Without the Program, our 9/11 responders and survivors might end up in limbo, rather than in treatment," said Dr. Howard during his remarks. "By providing evaluation and treatment for those most affected by 9/11 as a single cohort, the Program greatly aids not only the individual members, but also our national understanding of the long-term health effects of 9/11, including its effects on children. The Program helps us better prepare for the medical needs arising from large-scale disasters that might occur in the future."
During her testimony, Dr. Udasin detailed the importance of the Program in providing coordinated, centralized care at the WTCHP Centers of Excellence to diagnose and treat patients' physical and mental health, citing patient examples.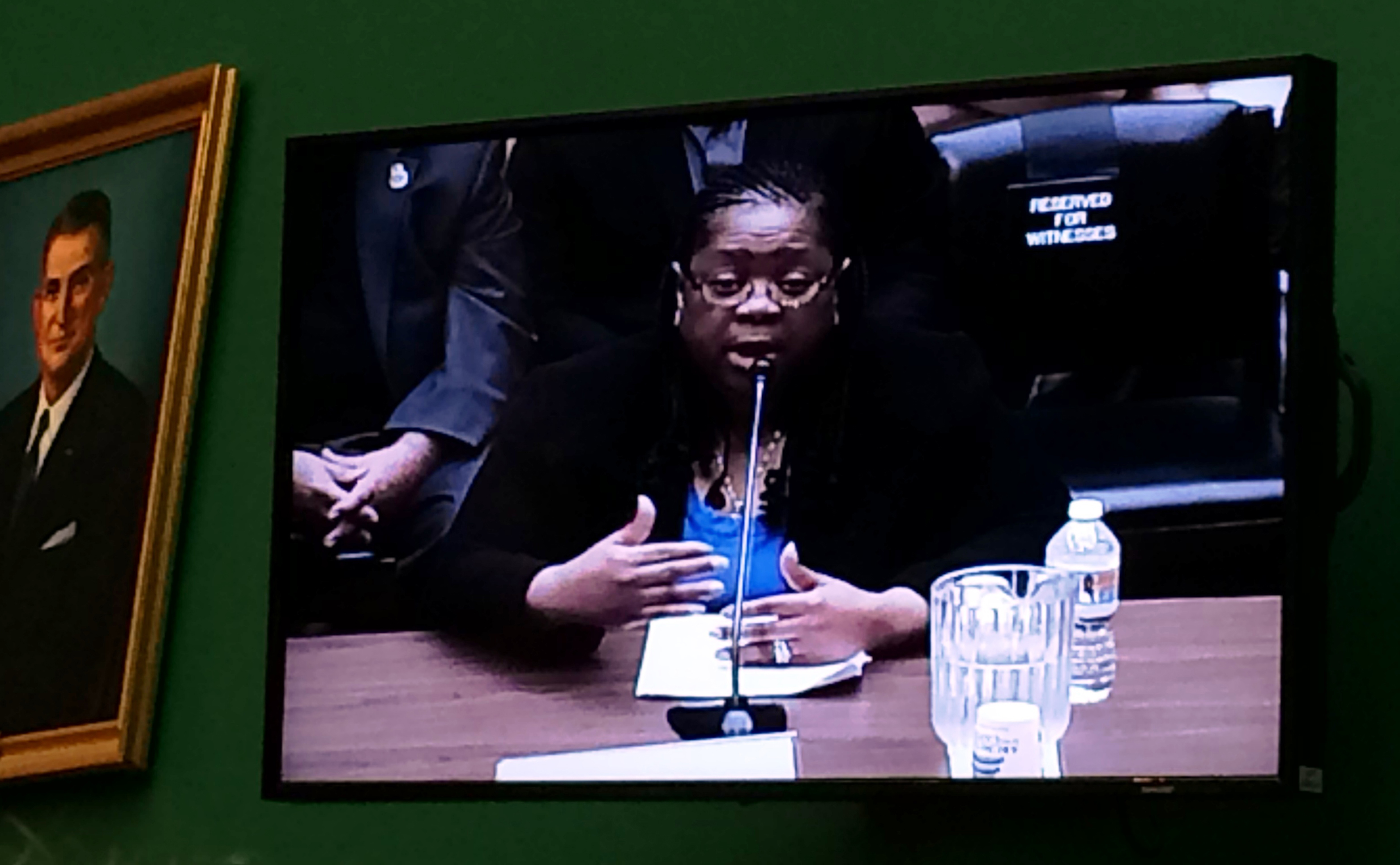 Former NYPD Detective Barbara Burnette shares her personal experience as a first responder.

"Over the past three years, we have been able to use our funding under the Zadroga Act to optimize cancer care of our patients," noted Dr. Udasin. "This is critical, since as early as 2008 our responders were already showing a cancer rate that was 15% higher than people their age who were not at the World Trade Center disaster site."

The committee also heard emotional testimony from two first responders - Retired NYPD Officer David Howley and former NYPD Police Detective Barbara Burnette. Mr. Howley and Ms. Burnette recounted their experiences working at the disaster site and detailed the chronic, life-threatening health issues they are now facing. Both are now unable to work because of their illnesses.

Watch the hearings and read their remarks here.
June is National PTSD Awareness Month
According to the National Center for Post Traumatic Stress Disorder, about 60% of men and 50% of women will experience a traumatic event in their lifetime, and the numbers are even higher for members of the armed forces. Everyone deals with trauma differently, and not everyone who experiences a traumatic event will develop PTSD. However, up to 20% of individuals may.
Not a week goes by without a report of another tragedy occurring in our country. The unfortunate fact is that an act of terrorism, mass violence or natural disaster occurs each week, and the notion of 'it can't happen here' is fading as random acts occur in both small and large communities.
It is especially important to remember that help and support are available. Thursday, June 20 is National PTSD Screening Day. If you feel that you are experiencing symptoms, the Anxiety and Depression Association of America has provided this online screening tool to complete and share with your health care professional.
Since 2001, VOICES had provided over 100,000 hours of social services support and built trusting relationships with those impacted by 9/11. This includes case management, support groups, and referrals to mental health providers and conferences. For a list of resources, visit our website.
Tuesday, September 8, 2015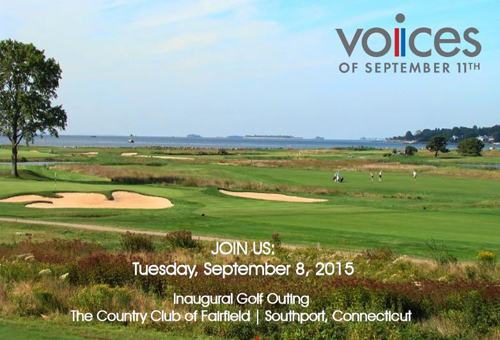 VOICES Inaugural Golf Outing
The Country Club of Fairfield, Southport, CT
Seth Raynor designed course
Voted 2nd best course in CT by Golf Digest
Limited foursomes and individual spots left, so reserve your place today! Those not playing golf are invited to attend the dinner reception and program beginning at 5:00 PM.
Our guest speakers include George Bodenheimer, former President of ESPN, and author of the newly released book, Every Town is a Sports Town. Mr. Bodenheimer will be joined by Emmy Award winner Jeremy Schaap, ESPN Reporter, Host and E:60 Correspondent.
Registration and ticket information is available online at www.voicesofseptember11.org. For more information, contact Frank Fetchet at (203) 966-3911, or ffetchet@voicesofsept11.org.
Voices of September 11th (VOICES) is a 501c3 nonpartisan organization that provides information and a wide range of support services to promote resiliency and address the long-term needs of all those affected by September 11th; commemorates the lives and stories of September 11, 2001; and advocates for public policy reform to promote national preparedness. VOICES is committed to helping communities prepare for, respond to and recover from traumatic events, by sharing lessons learned that will promote resiliency and healing in the lives of those impacted by other tragedies.